The Aussies are through to the World Cup. i rushed home from work yesterday to catch the match. caught it from 55th mins onwards. Aussies were leading Uruguay 1 - 0 and the tie was level at 1 a piece as Uruguay secured a 1 - 0 victory back home in Montevideo. it was a pulsating match, all action with so much at stake. the Holy Grail of the soccer world.
Before anything. i was supporting Australia. back to this point later. there were a few heart stopping moments towards the end as Uruguay threatened to score on the break. but they were denied by a heroic backline marshalled superbly by 'i forgot who it was' And the penalty shoot out gave Mark Schwarzger (Aussie keeper) the chance to be the national hero, as did Jerzy Dudek for liverpool couple months back. And a national hero he became as he saved 2 of Uruguay's spotkick, including 1 canon of a shot which Roberto Carlos would be proud of.
Was trying to work out why i was supporting Australia. They always gave priorities to another sport. Rugby. not like i hate rugby, i watch and play rugby myself but, soccer has to be my number 1 love. here might be the reason.
1) i've got frens residing over there in Aussie and frens who loves to go there for a holiday. but no frens who reside in Uruguay and nobody mentioned anything about going over to the South American nation for a holiday before. Closest has to be pravin wanting to go Brazil and my sidekick wanting to go Ecuador for an exchange. (Ecuador????)
2) Harry Kewell plays for Australia and he plays for liverpool too. and i'm proud to say that he did well for his country. now hoping that he can give this kinda performance week in and week out for liverpool as well. but well.. seems unlikely.
3) the most impt point of all. Uruguay were playing dirty. all the play acting, the nudges, the elbows and taunting. this was what really pissed me off. the ball rolled out of play towards the end. the Uruguay coach picked up the ball, and threw the ball at one of the aussie player. WTF? it wasn't a throw the ball at another person for him to catch kind of ball. it was a Hamtam Bola kind of throw. Totally no gamesmanship. Whole world saw it except the referee. Their attackers looks as though they all graduated from the 'Jurgen Klinsmann Diving School' sprawling to the ground at any given opportunity. and wat's the worst thing? they're proud of their antics. all this bullshit is spoiling the beautiful game.
Mark Viduka once scored 4 goals for Leeds in a game against Liverpool and completely trounced Liverpool. but nvm. he missed his penalty last night. and the sight of his face after missing it was enuff to make me happy.


Alvaro Recoba is one of my fave players and he plays for Uruguay. sad that i wun see him at the world cup but i wun tolerate any of this rubbish from his team which is gonna threaten to spoil the greatest show on earth.
Speaking of fave players, i realised i i don't really have a proper list of them. maybe i should try to compile one.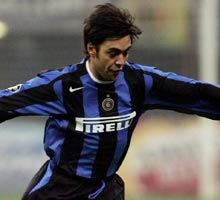 1) Alvaro Recoba - he's quite ugly. looks like the shrek donkey. but posseses a magnificent left foot. freekicks are deadly with a sting in it. Perhaps the greatest player from Uruguay in recent times.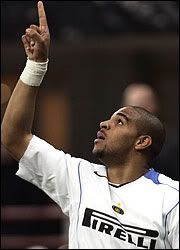 2) Adriano - he's big, strong and very fast. he might jus be able to hit a ball harder then Roberto Carlos. He'll shove you off with a swing of his arm and bye bye cos he'll be running away double time. never afraid to take on defenders and often finishes the move with his trademark power shot.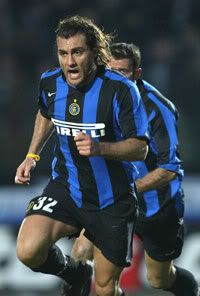 3) Christian Vieri - player of similar mould with Adriano but of the older generation. (he's half australian, haha!) slower but fantastic in the air. Big burly striker who can striker fear into any defender in his prime.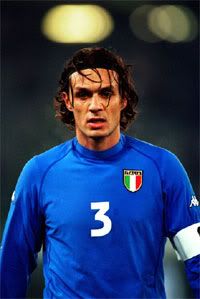 4) Paolo Maldini - Few can argue that he is the greatest leftback that graced a soccer field.
there u go. these are the few names that hovered around in my mind. all of them are left footers. i really wonder why.......