Wednesday, December 21, 2005
Ace of Spade (updated)
todae must be the national slow walking day. either that or national walk in front of bobby slowly and block him day. damn damn irritating can!! all these people trying to be funny or what?? not say i walk damn fast also.. block the entire pavement. want to overtake also cannot. can only walk behind them like idiot. and it doesn't feel good being an idiot lar! fuck spiderman sia... (sorry spiderman.. dint mean to fuck you but fuck spider seems to be getting boring.)

yesterday got big big news. the durai make people dulan again. he take the money people donate. and anyhow use. kena check already mar now.. bo bian everything expose. gold tap somemore. i think if they sue him jialat jialat. he want to have a house to put normal tap also cannot. can only go public toilet use dirty tap. haha! if he dun like dirty tap... maybe can go use handicapped toilet the tap not so dirty la. HAHAHA!

but singapore sibei sibei no news like that.. the newspaper and teebee news all show durai making people dulan. normally those news that people dropped into drain kena stuck one also will feature on news one. but if anybody drop into drain yesterday... den sorry ah.. they will show durai making ppl dulan. so no time to show u drop into drain kena stuck news. try next time ok? sure got chance one.

this month FHM.. dawn yeo is the cover girl.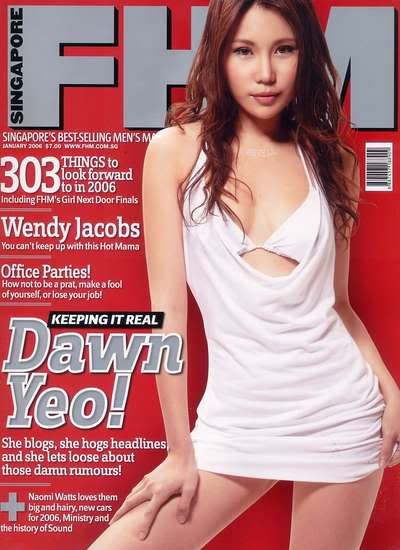 STEAM. haha! she best one. pretty already famous. i how hamsam also never famous. but i like her also lar. so pretty. how to don't like?



talking about cover girl ah.. this week the U Weekly is Stef Sun.. but the picture on the cover like abit kena sai leh...



dunno why they choose that one also. got many many other nice nice one inside mar. put that one. if i her.. i sure dulan one... U Weekly learning from durai issit? want to make ppl dulan. dun lar. later after work i will go and buy the FHM already. the January Issue got FHM playing cards! wah lau!! song bo! u play cards next time... no need to see the stupid joker face... no need to say old old ugly ugly queen already... u can see Denise Keller, June Tan, Phyllis Quek. hmmmm dunno who is the Ace of Spade leh.. haha. later is Lydia Sum.. HAHAHA!! very big mar the Ace of Spade. so must put big big one. nvm... i see already i tell u is who ok?

then the U Weekly very smart also. that time they say our magazine price lower cos we chu new pattern. now only $1 sell u cheap cheap. den u get the magazine double the size somemore. song bo? ppl of cos very song. but after that... they after chu pattern they chu stunt. say we offer u $1 for 4 weeks. after that must pay $2 already. cos magazine big big mar. (normal price $1.50)

then now when i go toilet to do big business... i hold the U Weekly, super mafan. cos very big. not like last time small like book. now it's like Newpaper like that.. except that it's thicker and heavier. haiyo. next time i big business i dun wan to read U Weekly already.
Update

::
Ace of Spade is Jamie Yeo.... hahaha.. damn anti-climax man.... but it's gonna be my fave pack of playing cards from now on......



posted by bobby @ 1:17 PM

About Me
Name: bobby
Home: Dorset, Island, Singapore
About Me: Man in Pain
See my complete profile
Previous Post
Archives
Sing the Song
Scene
Songs
Friends
Waywards
Powered by