Monday, May 29, 2006
Tom & Jerry
posted by bobby @ 2:06 AM

Tuesday, May 23, 2006
Videos Again
Today's server maintainence day for World of Warcraft. So i've got some time to upload a couple of videos and post them up here. yea...
The first one's funny like hell... the second one's just pure mind boggling....
posted by bobby @ 8:34 PM

BrokeTrafford Mountain?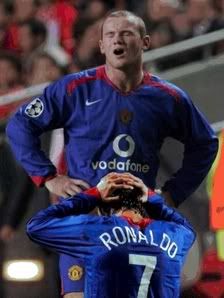 posted by bobby @ 8:05 PM

For Dedication To My Work
*other names blurred out to protect their privacy
Many would have this impression that i've been very slack while i was serving my NS. But this would be the biggest prove that i indeed served the nation in any part I can with pride and responsibility.

(many thanks to my boss would had wrote in to recommend me for the award)

This award as mentioned is given to those in recognition of their outstanding performance, dedication and loyalty.
heehee.. powerful hor? not bad huh? i quite happy la. haha. congrats bobby.....
posted by bobby @ 7:54 PM

Nice Guys Finish Last
was surfing around in hardwarezone forums and i found out that there is actually such a club. the Nice Guys Finish Last Club.
This is how the fella described it as:
This is a tribute to the nice guys. The nice guys that finish last, that never become more than friends, that endure hours of whining and bitching about what assholes guys are, while disproving the very point. This is dedicated to those guys who always provide a shoulder to lean on but restrain themselves to tentative hugs, those guys who hold open doors and give reassuring pats on the back and sit patiently outside the changing room at department stores.
This is in honor of the guys that obligingly reiterate how cute/beautiful/smart/funny/sexy their female friends are at the appropriate moment, because they know most girls need that litany of support. This is in honor of the guys with open minds, with laid-back attitudes, with honest concern.This is in honor of the guys who respect a girls every facet, from her privacy to her theology to her clothing style.This is for the guys who escort their drunk,bewildered female friends back from parties and never take advantage once theyre at her door, for the guys who accompany girls to bars as buffers against the rest of the creepy male population,for the guys who know a girl is fishing for compliments but give them out anyway, for the guys who always play by the rules in a game where the rules favor cheaters,for the guys who are accredited as boyfriend material but somehow dont end up being boyfriends, for all the nice guys who are overlooked,underestimated, and unappreciated, for all the nice guys who are manipulated,misled, and unjustly abandoned, this is for you.
This is for that time she left 40 urgent messages on your cell phone, and when you called her back, she spent three hours painstakingly dissecting two sentences her boyfriend said to her over dinner. And even though you thought her boyfriendwas a chump and a jerk, you assured her that it was all ok and she shouldnt worry about it. This is for that time she interrupted the best killing spree youd ever orchestrated in GTA3 to rant about a rumor that romantically linked her and the guy she thinks is the most repulsive person in the world. And even though you thought it was immature and you had nothing against the guy, you paused the game for two hours and helped her concoct a counter-rumor to spread around the floor. This is also for that time she didnt have a date, so after numerous vows that there was nothing serious between the two of you,she dragged you to a party where you knew nobody, the beer was awful, and she flirted shamelessly with you, justifying each fit of reckless teasing by announcing to everyone: oh, but were just friends!And even though you were invited purely as a symbolic warm body for her ego, you went anyways. Because youre nice like that.
The nice guys dont often get credit where credit is due. And perhaps more disturbing, the nice guys dont seem to get laid as often as they should. And I wish I could logically explain this trend, but I cant. From what I have observed on campus and what I have learned from talking to friends at other schools and in the workplace, the only conclusion I can form is that many girls are just illogical, manipulative bitches. Many of them claim they just want to date a nice guy,but when presented with such a specimen, they say irrational, confusing things such as oh, hes too nice to date or he would be a good boyfriend but hes not for me or he already puts up with so much from me, I couldnt possibly ask him out! or the most frustrating of all: no, it would ruin our friendship.
Yet, they continue to lament the lack of datable men in the world, and they expect their too-nice-to-date male friends to sympathize and apologize for the men that are jerks. Sorry, guys, girls like that are beyond my ability to fathom. I cant figure out why the connection breaks down between what they say (I want a nice guy!) and what they do (Im going to sleep with this complete ass now!). But one thing I can do, is say that the nice-guy-finishes-last phenomenon doesnt last forever. There are definitely many girls who grow out of that train of thought and realize they should be dating the nice guys, not taking them for granted. The tricky part is finding those girls, and even trickier, finding the ones that are single. So, until those girls are found, I propose a toast to all the nice guys. You know who you are, and I know youre sick of hearing yourself described as ubiquitously nice.
But the truth of the matter is, the world needs your patience in the department store, your holding open of doors, your party escorting services, your propensity to be a sucker for a pretty smile. For all the crazy, inane, absurd things you tolerate, for all the situations where you are the faceless, nameless hero, my accolades, my acknowledgement, and my gratitude go out to you. You do have credibility in this society, and your well deserved vindication is coming.
Long ass description from the guy i know........ but i jus find the above somewhat awfully familiar....
posted by bobby @ 2:11 PM

The Holy Grail... ?
A group of alumni, highly established in their careers, got together to visit their old university professor. Conversation soon turned into complaints about stress in work and life.
Offering his guests coffee, the professor went to the kitchen and returned with a large pot of coffee and an assortment of cups - porcelain, plastic, glass, crystal, some plain looking, some expensive, some exquisite - telling them to help themselves to hot coffee.
When all the students had a cup of coffee in hand, the professor said: "If you noticed, all the nice looking expensive cups were taken up, leaving behind the plain and cheap ones. While it is normal for you to want only the best for yourselves; that is the source of your problems and stress.
What all of you really wanted was coffee, not the cup, but you consciously went for the best cups and were eyeing each other's cup
Now if life is coffee, then the jobs, money and position in society are the cups. They are just tools to hold and contain Life, but the quality of Life doesn't change. Some times, by concentrating only on the cup, we fail to enjoy the coffee in it."
So, don't let the cups drive you... enjoy the coffee instead.
posted by bobby @ 1:04 PM

The Big Annoucement
actually todae really nothing to blog about. i sit here 30 minutes already. still nothing to blog about. of cos i never sit here in front of the computer and stare at the moniter lar. i was watching tv, watching youtube, surfing for games, and doing other things to garner inspiration for watever i can blog about but there's still nothing to blog about.
yup. but i realised i've got some vidz in my com. freaking funny stuffs. maybe i'll upload them so i can show u all. but its off to my bed for now. ciao amigoes.... (plural of amigo is amigos or amigoes? hmmmm.....)
posted by bobby @ 1:04 AM

Monday, May 22, 2006
Blockbusters
watched MI 3 and Da Vinci Code.
WARNING : IF YOU WANT TO WATCH BUT HAVEN WATCH DEN MAYBE DUN READ ON.
MI3 was pretty good. fast paced. handsome guy. and maggie Q. but hor.. somehow Maggie Q wasn't really very impressive in the show.. she's just too too skinny... all bones, sigh.



story wasn't that much predictable like what people said. they talk cock one lor say it's predictable. they got try to twist here and there lor.
anybody dare to tell me you were not surprised at all thruout the show?? suck it you movie critics!!!!!!
there's all the mission impossible elements in the show. bombs going off anytime. trucks being exploded like nobody's business. people falling from all over and nothing happens, they jus get up and walk away. got things of this sort. but wat i liked was that it was a happy ending. machiam fairy tale like that. they lived happily ever after kind of thing you know? how seldom you find this kind of ending nowadays? all the bad guys die and all the good guys live. and it's damn funny how hawk's wife behind the ultimate hero lar. its like what the hell man!
and Da Vinci Code..... well, it wasn't as fast paced as the book. haha. the book was much better. but i feel that the movie was worth the watch as well. it helps explain things that u dint get in the book. it paints a much better picture. it works like a compliment to the book. hanks wasn't really too convincing as robert langdon... he lack the charisma and the scholarly air around him. thus projecting langdon as more of a thug at times.
bishop aringarosa looks like a gangster or mafia boss more then a bishop. audrey tautou of amelie fame was impressive as sophie neveu. exactly wat i thought but her character wasn't that much explored into then in the book. hence losing much connection with the audience.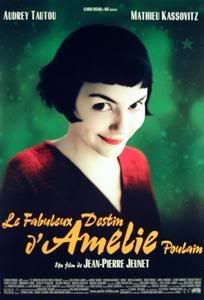 Ian McKellen, or Gandalf as most people know him for, gave a superb performance as Leigh Teabing..
Go watch the movie. both the movies. what else is there to do in Singapore anyway?
posted by bobby @ 1:06 AM

My Proud Mount
this tiger not cheap leh.. it is really not cheap at all. it cost 90 Gold. it is alot of money in game man! and i finally got it leh. Damn Super Happy lar..
posted by bobby @ 12:53 AM

Sunday, May 21, 2006
李玖哲 - 解脱
posted by bobby @ 4:41 AM

2 Years On....
Received my nametag and badge 2 years ago. I feel like i'm going to ord.
posted by bobby @ 4:02 AM

Saturday, May 20, 2006
Quote of the Day
boat reach bridge head auto straight
posted by bobby @ 1:48 AM

Friday, May 19, 2006
New Love.....
i'm in love all over again................................................
click
posted by bobby @ 5:32 PM

To Malaysia....
yea.... i went off to malaysia with my family a few weeks back. with my dad's friends. all the old fogeys. i was like soooooooooooooooooooooo bored...... lucky i had my traveller pack with me. can't really remember the places i went to. it was Genting, Malacca, Batu Pahat and another weird place which i forgot the name.
its really crazy i tell u the bus ride..... i sit until my backside nua.... smoke also come out from my backside. but i think i'm quite a well prepared traveller. you'll have quite alot of things to do. had a couple of magazines with me, bored can read. had my sony walkman phone with me. so bored can listen to all the mp3s. and i got GPRS and autoroam, so if you're still bored can go WAP and log onto MSN to chat with your friends. and if you're feeling rich can jus call your friends to talk. and also my playstation portable. if you're bored you can play the games which guarentees hours of fun. if you're not that big a gaming person, you can also watch the videos and the movie that are in the memory stick. and if you're in a wifi zone, jus take out the playstation portable and you can start surfing using it. cool.....
nothing much to blog about the trip.. might have been fun-ner if i went up there with my friends, but maybe next time perhaps. yea... took some photos.. maybe i'll jus let u see picture la. haha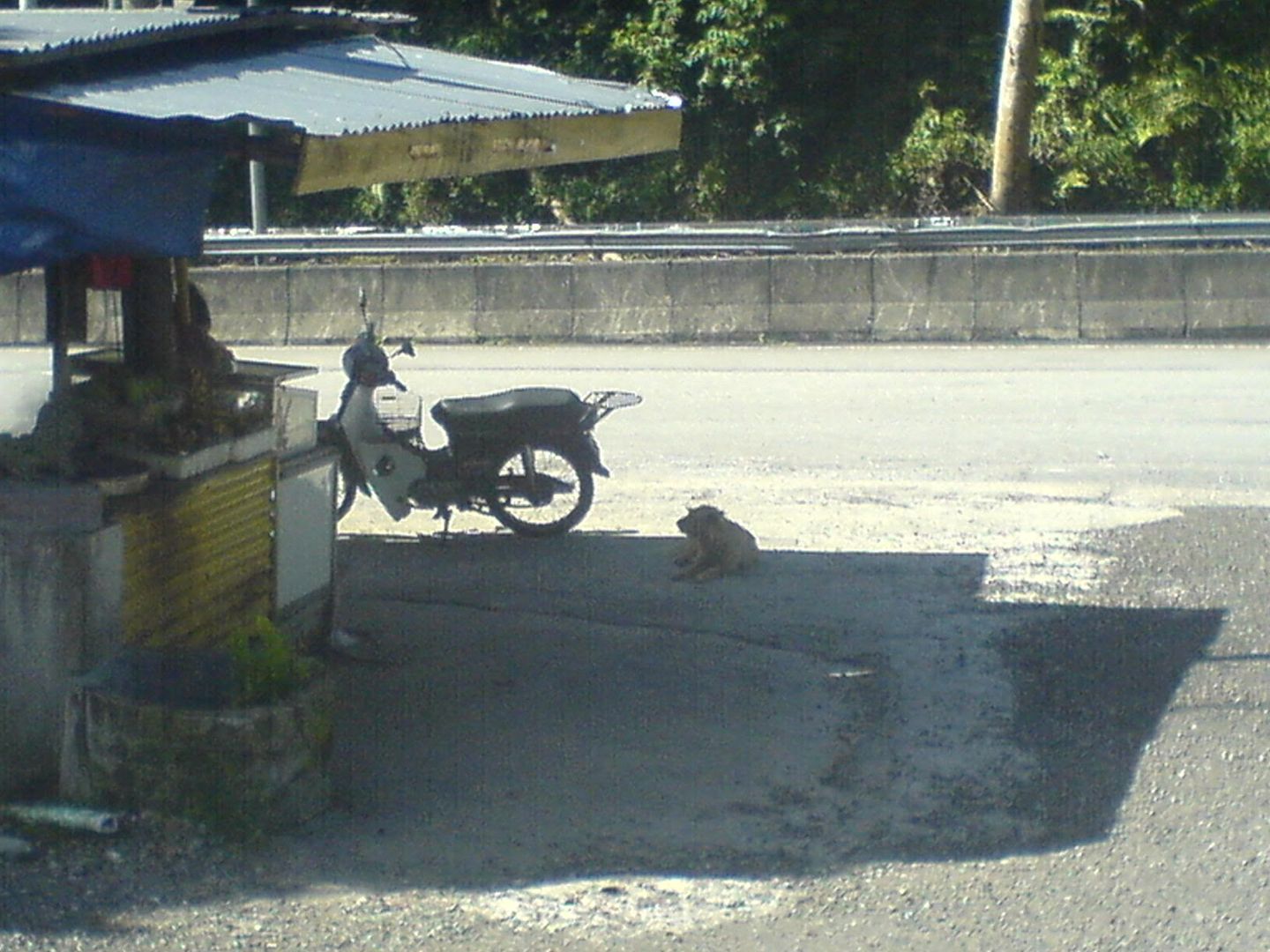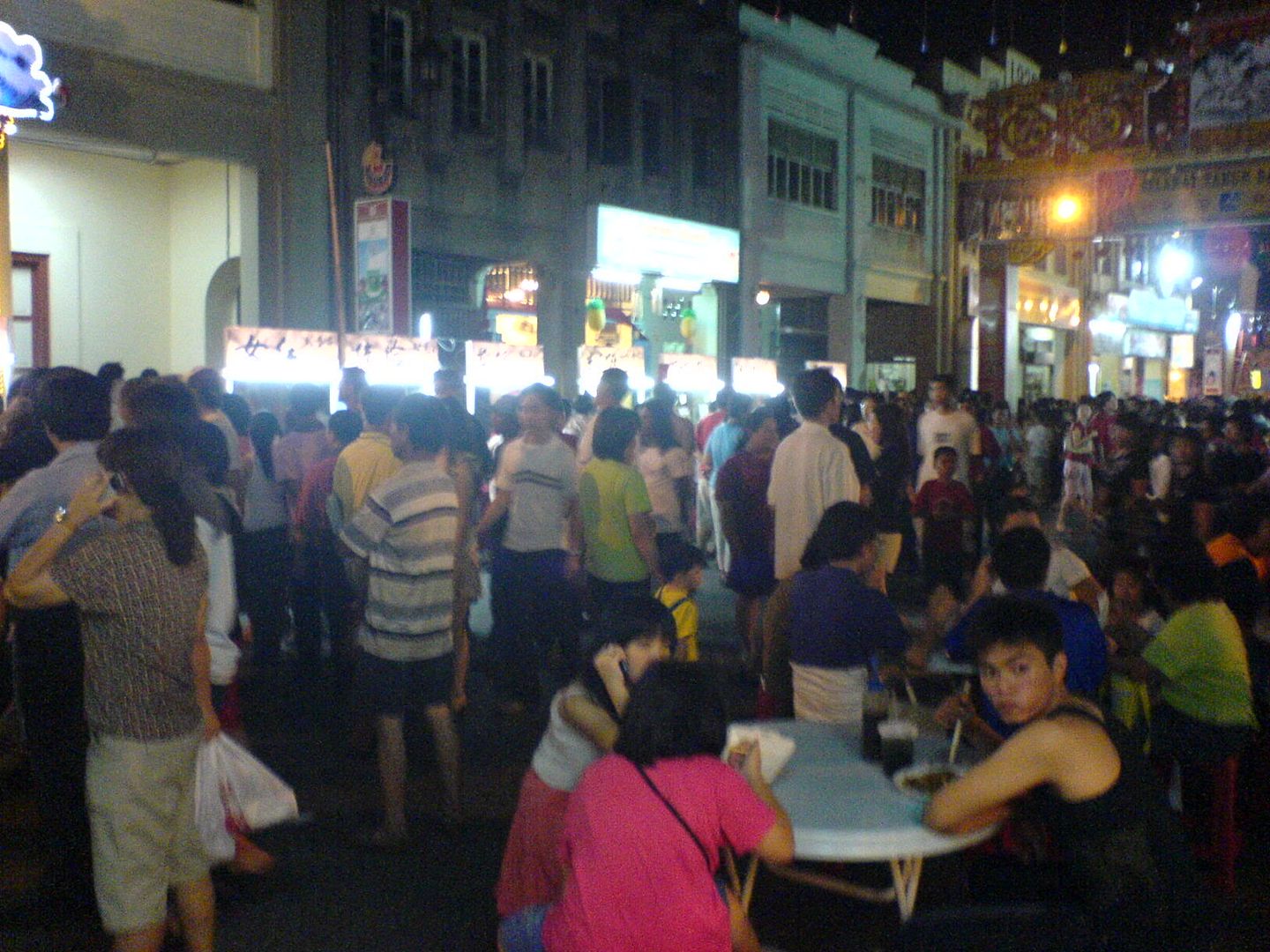 Scenes from the weekly night market in Malacca. it's a really cool place. happens every Saturday if i'm not wrong. It's a chinese organised thingy, so like 90% of the people there are chinese. They put up this big stage, so people can perform like chinese dance, singing, wayang, any kind of performance also have. it's like a mega big scaled pasar malam. street hawkers all over, and push cart stalls littered all over the place with shop houses also. the amazing thing about this place is that the shop keepers are all very young. probably younger den 20. There are clans and associations opened for people to walk in to sing songs. haha. pay $1 and you can sing a song. cool.... even got those fellas showing off their skills lor. got this fella got 'tan zhi shen gong' which is also known as the 'use finger to break everything' skill. too bad i forgot to take picture of him.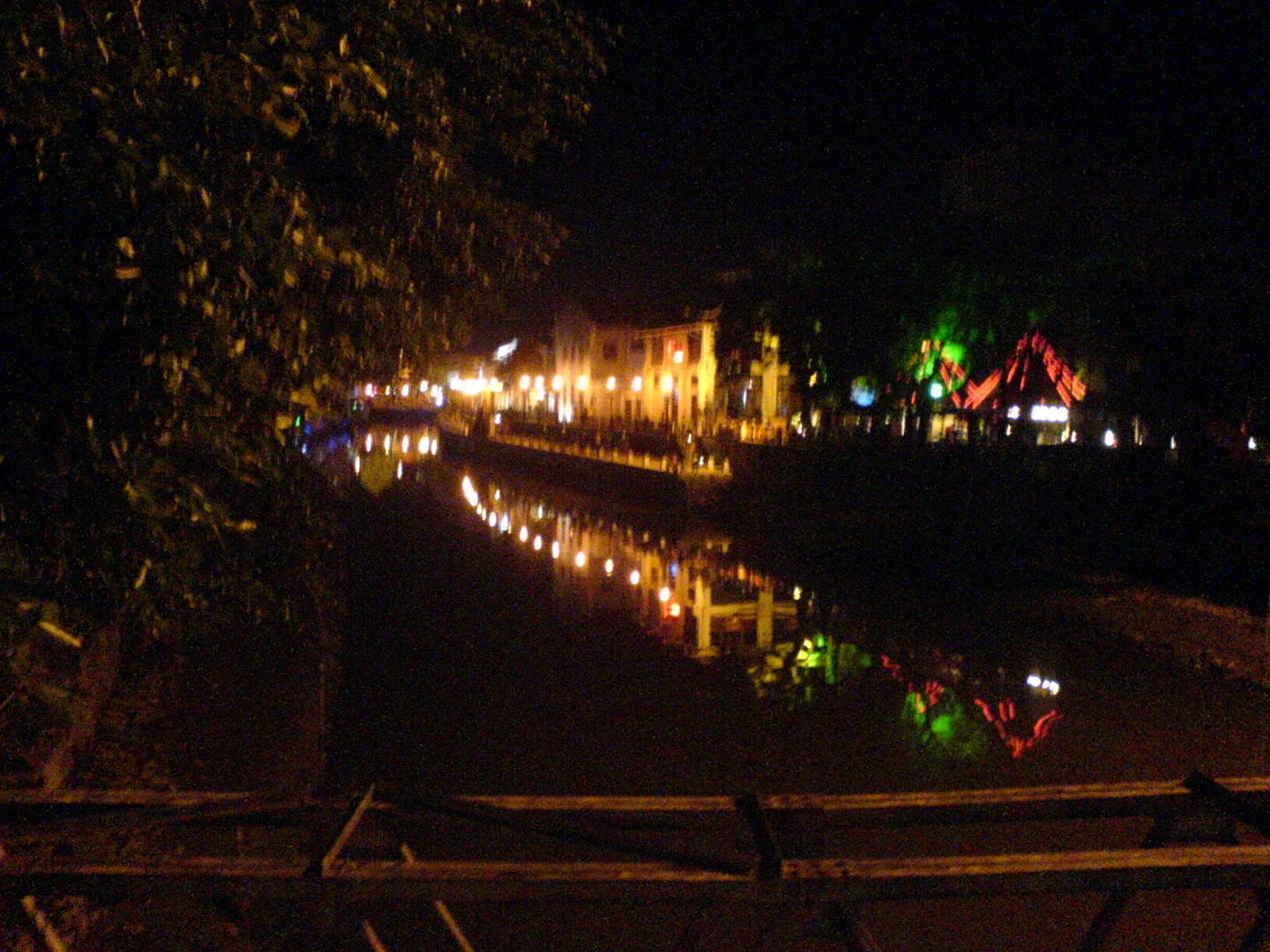 that place is like the boat quay. all the pubs. show soccer all that. but you know this trip is a very family oriented and a elderly oriented trip, so its a big no-no to go to places like this. ha!
random shots....


one of the lunch place. it's Super Lantern Restaurant. like damn powerful like that.

SUPER LANTERN

leh.....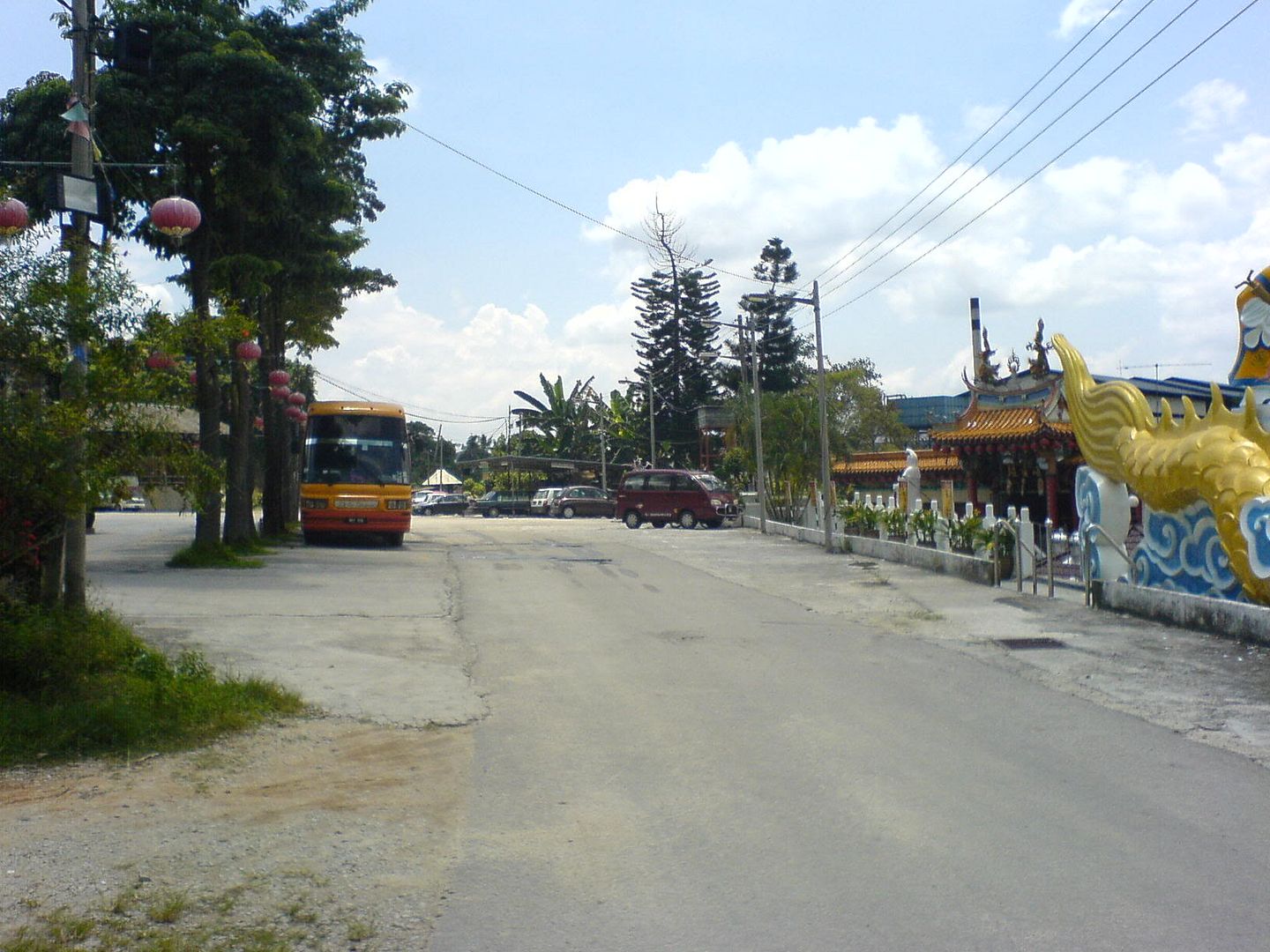 Super Lantern is beside a temple with a big big dragon statue. you can see the dragon tail here.
here's the dragon head, with the 8 Immortals. haha.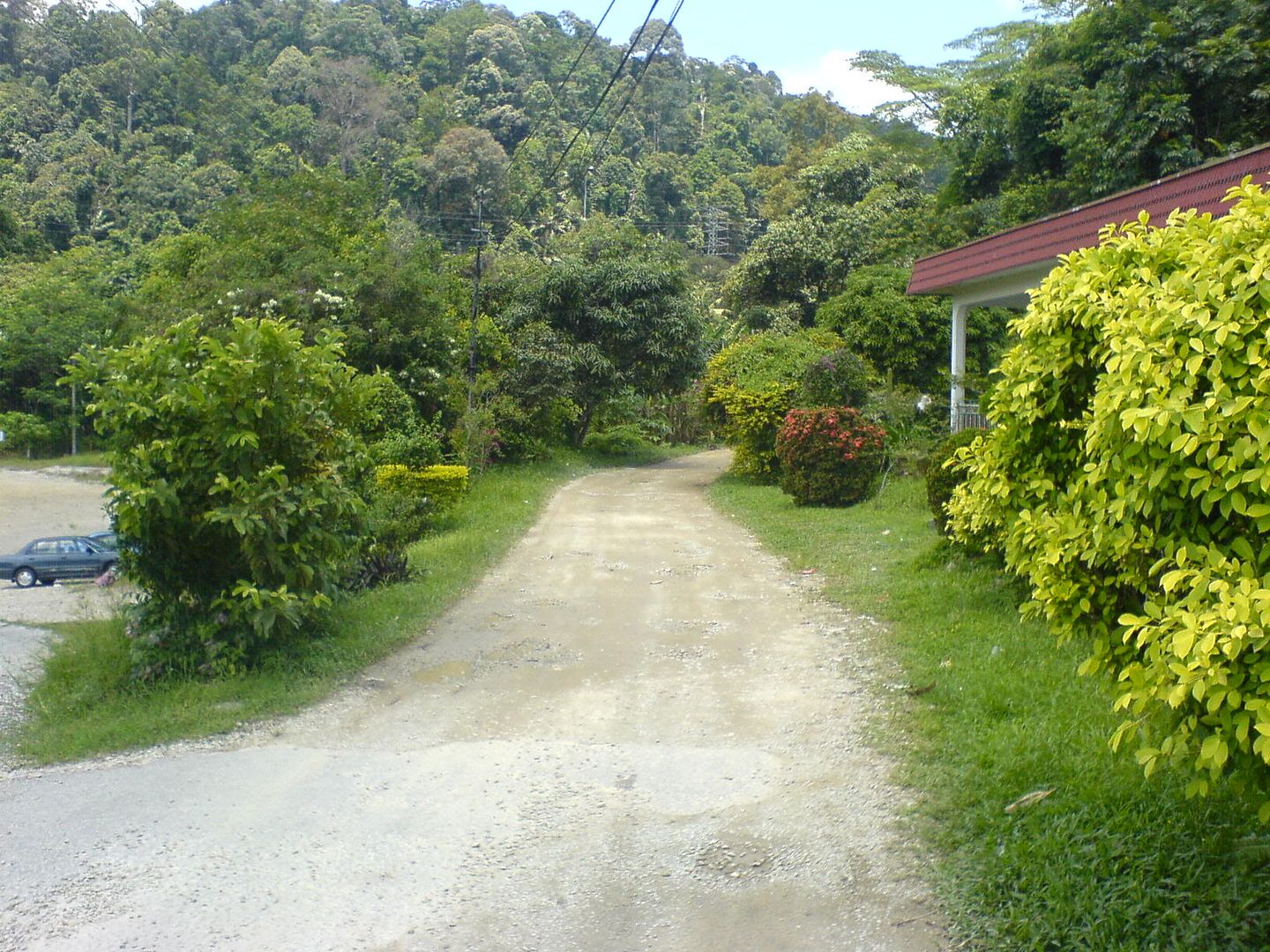 dunno this road go where also. dun dare to walk. jus take picture.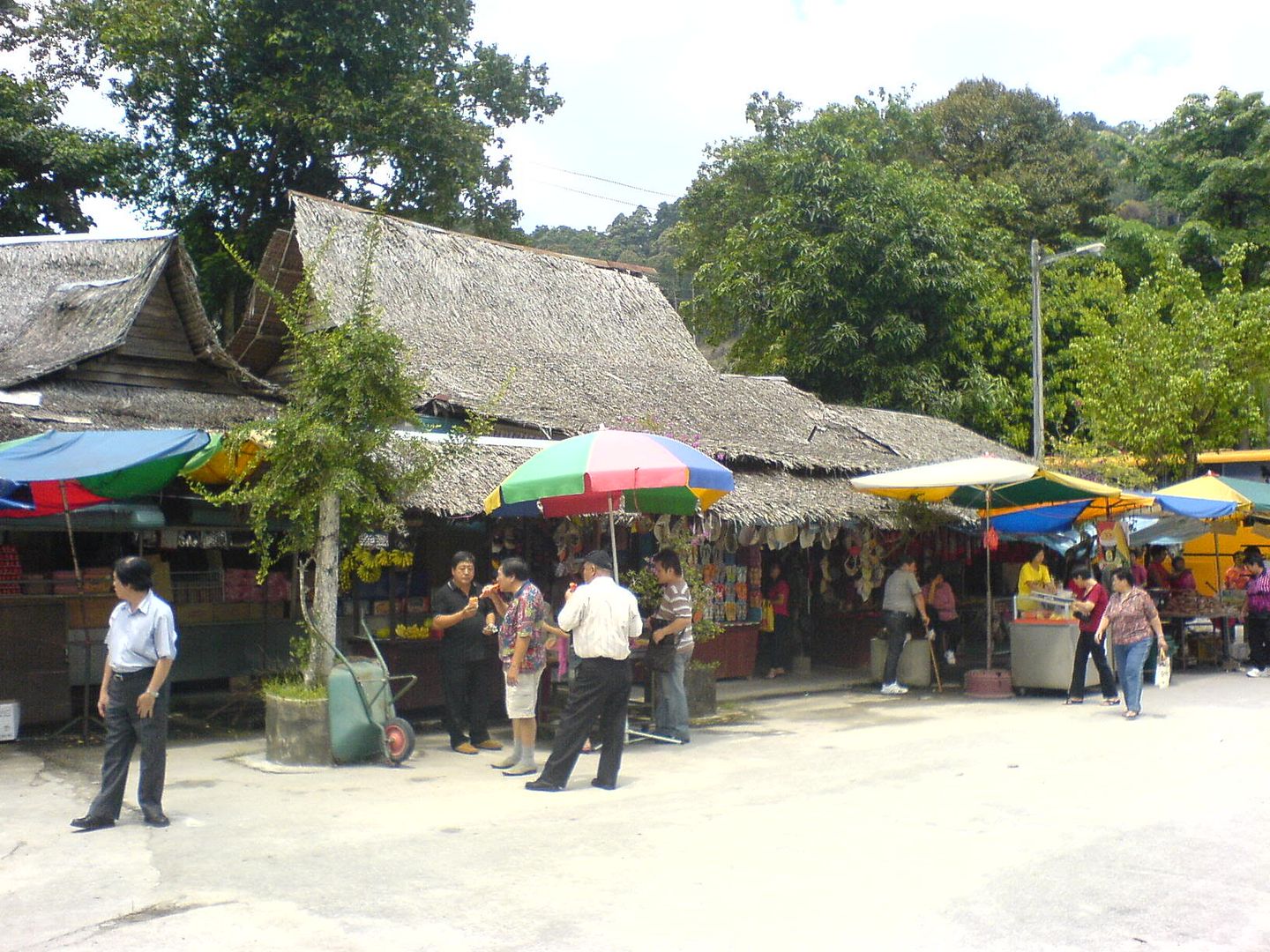 some shops beside the temple. cool roof...
the last day we went to this place to see fireflies. but i couldn't take a picture of them. very dark and the tour guide fella said cannot take photo. cos will scare the fireflies then they will die. haha. we had to take this powerboat thingy and go very very deep into the swamps to find the fireflies. 1st time in my life encountering them. the fella driving the powerboat was this 14 yr old boy. we were like what? this fella gonna drive us in? haha. was quite scary at first but he proved to be more then competent. power sia! the fireflies all hang around the trees... den make the trees look like it's been decorated for christmas. blinking lights and all. cool stuffs.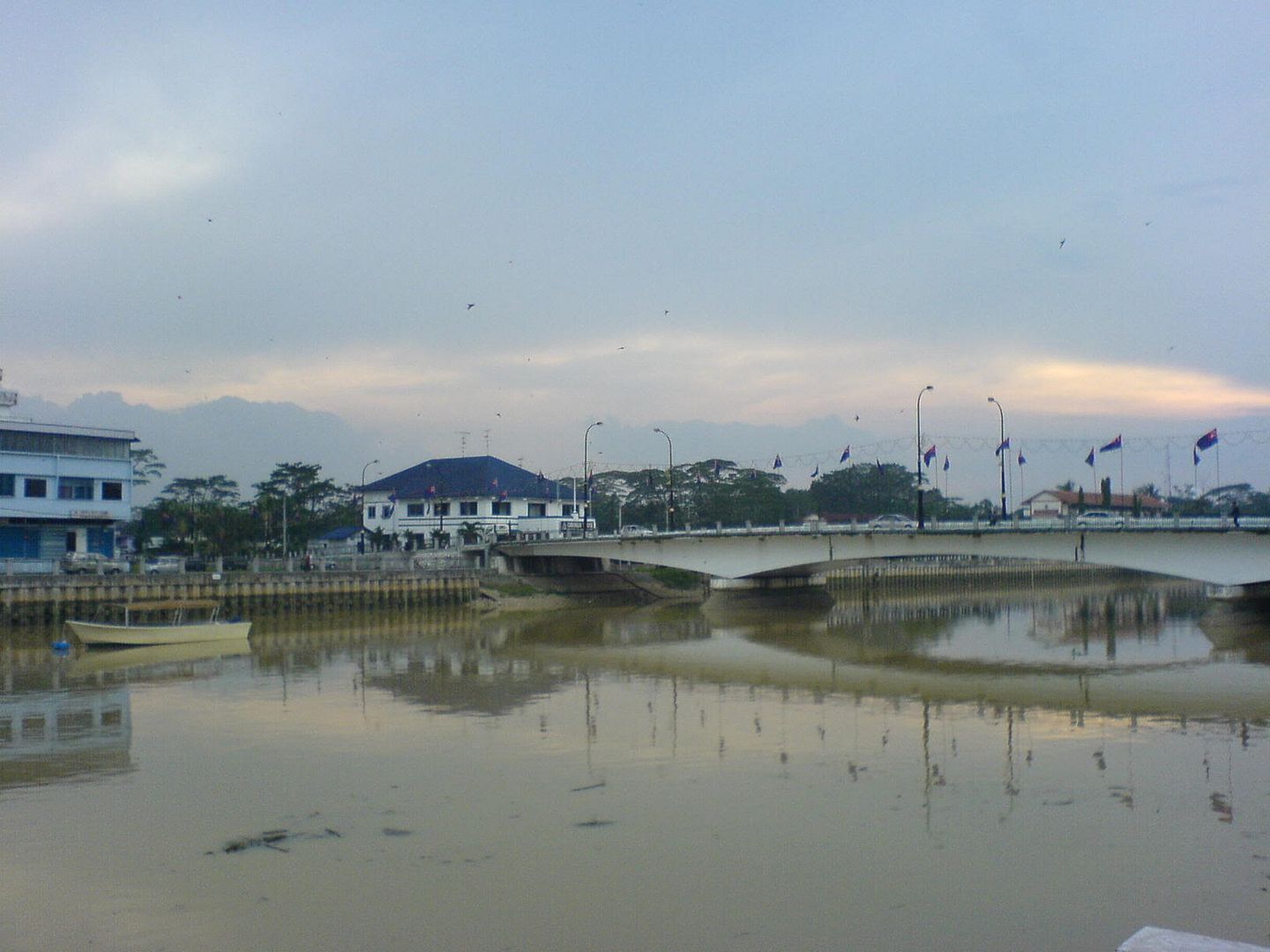 posted by bobby @ 4:19 PM

Wednesday, May 17, 2006
Saints Sweeps Rugby Titles
just came back from the A division finals. magnificent. we won it! at long last. it was a dramatic match worthy of being a final.
SAJC was trailing for most of the match. A try in the last 5 mins managed to tie the game. and with the last play of the game, we scored a try to kick the shit of them. just before the winning try, the RJC player thought he was thru to score a try without knowing the whistle was already blown. he dived towards the tryline and it was truly a moment of comic relief thruout a tensed match. we all hailed him and before we know it, we won the game.
It was followed by a pitch invasion by the Saints supporters, whom i might say is the whole school population. I've never seen it happen before. pitch invasion in Singapore. i thought it will only happen in England or anywhere else. took some pictures of the scene of jubilance... shall upload them later.
posted by bobby @ 8:10 PM

Wednesday, May 03, 2006
Johannesburg
I wanna go to
Johannesburg
............ bring me there someone??



posted by bobby @ 12:15 PM

The Most Dangerous Potato Chips to Eat
Public knowledge of the serious dangers found in potato chips may finally be surfacing. The California-based

Environmental Law Foundation (ELF)

has filed notices with the state's attorney general against potato chip manufacturers:





Lay's potato chip maker PepsiCo Inc.




Pringles maker Proctor & Gamble Co.




Cape Cod potato chip parent Lance Inc.




Kettle Chips maker Kettle Foods Inc.





... that would require them to place labels on their products warning consumers about the high levels of acrylamide found inside. Acrylamide is formed when starchy foods are baked or fried at high temperatures and is considered a cancer-causing chemical by the Office of Environmental Health Hazard Assessment.





Manufacturers who sell their products without such warnings are in violation of California law,

California Proposition 65

.





The attorney general's office has 60 days to decide to pursue the case; if the state declines, the ELF will file lawsuits against the companies.





What Do the Chip Makers Have to Say?





The reaction from the chip makers was on the defensive ... though the Food and Drug Administration's (FDA) wavering position on the dangers of acrylamide certainly doesn't help.




Perhaps the FDA should review the report developed by the ELF that listed just how far various chip brands exceeded the state's required warning levels for acrylamide. The offenders include:





Cape Cod Robust Russet: 910 times





Kettle Chips (lightly salted): 505 times





Kettle Chips (honey dijon): 495 times





Pringles Snack Stacks (pizza-flavored): 170 times





Lay's Baked: 150 times





Chew on that ...


Reuters

June 17, 2005



Environmental Law Foundation

June 16, 2005





Dr. Mercola's Comment:




I suspect nearly everyone reading this enjoys the taste of potato chips. However, they are clearly one of the most toxic processed foods you can eat. Do you really want to trade a few moments of taste pleasure for cancer?





Potato chips are loaded with acrylamide. This is only one of the many side effects that occur when food is highly processed; for instance, using high temperatures to cook foods can contribute to the formation of carcinogenic substances. Another similar example occurs when meats are cooked at high temperatures. In this case,

heterocyclic amines can be formed

.





Ideally, you should consume foods that are minimally processed to avoid these types of toxic byproducts. I assure you that there are many others, most of which have yet to be discovered. Acrylamides have only been known for a few years and many experts discounted them when

they were first discovered.





In the best case, over half of your foods should be uncooked and eaten in the raw state. My diet is typically about 80 percent to 90 percent raw foods, and I find it is one of the major ways that I am able to remain healthy and avoid all sorts of health problems and challenges.




It may take you awhile to have more than 50 percent of your diet raw but start by throwing out the obvious and well-known processed foods that there is absolutely no excuse to consume:





Doughnuts




French fries and potato chips




All sodas





You may also be interested in reviewing my popular list of what I feel are

the worst possible foods you can eat.



Related Articles:


Does Acrylamide in Common, Cooked Foods Cause Cancer?
The Dangers of Over-Cooking Your Food
Find Out Which Raw Food Diet is Right for You



But somehow it might not be so dangerous after all :


http://www.prevention.com/article/0,5778,s2-3-55-179-2076-1,00.html
posted by bobby @ 10:33 AM

About Me
Name: bobby
Home: Dorset, Island, Singapore
About Me: Man in Pain
See my complete profile
Previous Post
Archives
Sing the Song
Scene
Songs
Friends
Waywards
Powered by