Tuesday, May 31, 2005
Resentment of a NS Man
National Service or NS as they call it to be. Every guy has to go through it no matter what. It is what is supposed to make a man out of all the Singaporean teenagers. But does it really serve it's purpose?
Many people that i know off or even those that i do not know off, take it as a pure waste of time. But of cos we have to look at the bigger picture of having a group of singaporean that will protect the nation in times of war and what not. But are this group of people even able to do it? The fact that they do not even take their daily work seriously. To some if has jus become a daily routine. Doing the same thing over and over again everyday for 2 years or more depending on the training period.
Are singaporean men not mature enough to understand the importance of protecting the country and serving the country with pride? Or is the Government not doing enough to inculcate the values and the importance of being patriotic towards the country of your birth, the country whom provided you a place to stay in and water to drink and food to eat. You might think, do you expect everything to be spoon fed to you by the government? Can you think for yourself?
YES. think for ourselves we all do. In fact, its because we think for ourselves that this situation has arise. In such a bloody competitive society, it is the survival of the fittest. There's so many things to think about. money, job, family, friends, bills, your wants, your needs.... and where does the word 'country' come into the picture? YES, we've been living in a time of peace and now we're all taking it for granted. Where we expect everything to come to us nice and pure. Must we really taste hardship and bullshit before we all learn the lesson that life is really already damn good for us? Still, nobody puts anything close to the word 'country' in their list. closest being 'holiday' and choosing which country to go to next.
Let's look at China. They've got an abundance of people willing to serve the country. Why so? What is the distinction between a country like China and us? The major difference might just be that they have the word 'country' in their list. And along with the word country, comes also what tops their list. 'Money'
Another thing that deters NS men from wanting to get serious. Money. Well, this statement might make older generation of NS men come after my neck, but comparatively to the economy nowadays, it's still equally peanuts of a paycheck.... You can actually tell of the culture within the NS society when terms like SAF ( serve and f***off) or bo chao geng bo chut peng (nv fake nv get out of army) are coined and become favourite lingos amongst all.
Among my time in training, i've made many good buddies who will remain my good buddies for the many years to come. and the memories are also priceless. but that remains sadly as the only very few good points that i can actually think of at all. No mood to carry on. bah...
Well, if you want to serve the nation and you wan money... sign on. go ahead. =) you'll be serving the nation and having good money.
posted by bobby @ 1:45 PM

Monday, May 30, 2005
lonesome!
shouldn't have posted the 'are you lonesome' entry. it might have been a curse. i was fucking lonesome for the weekend. made me realised how little friends i have! stayed at home since friday till now. monday morning. dint even step out. haven had a weekend like this for a year. K is in Korea while C when to some weird province in China. everywhere but Singapore.
Time for bed. jus wanted to drop by to update. i'm was so bored that i couldn't even be bother to log on to update this pathetic place. darn.... just aint feeling good. let's hope that this monday and tuesday will be good. COME ON!!! anyone reading this can u help make it good??
Great Singapore Sale

is on now.... check out the website. i need to get some shopping done with whatever that's left in my much depleted bank account. i'm jus too much a shopper for a guy... why make me such a shopper!?!?!?! damn pu bor....
posted by bobby @ 3:18 AM

Friday, May 27, 2005
No Ideas
Least Competent Criminals

In March, Jonathan P. Mitchell, dressed in black and wet from crawling in the nighttime mud up to a store in the KOA campground near Watsonville, Calif., was found by police, stuck and dangling from the rafters after trying to climb in through the roof. However, the manager admitted that he had not locked the door that night and that Mitchell could have just walked in. Three weeks earlier, in Fostoria, Ohio, thieves broke in and carried off a safe in the office of a local organization that serves the poor (Fostoria Bureau of Concern), but director Susan Simpkins said that not only was the safe empty but the bureau had decided to junk it a while back and was looking for someone to haul it away. [KTRK-TV (Houston)-AP, 3-24-05] [News-Messenger (Fremont, Ohio), 3-8-05]


Joseph R. Holland, 23, who escaped in February from prison in Schuylkill County, Pa. (near Allentown), but who was captured the following day, wrote to a judge in March disputing the escape charge against him: (1) The warden never told him he couldn't escape, he said (in his syntax-challenged petition). "(I) was never provided with any orientation, a handbook or ever signed any contract ... I was never informed to follow any rules, cause I knew no rules!" (2) "I wasn't gone over 24 hours, and all my personal belongings were ever here. I had every intention of coming back, who's to say any different?" (3) And besides, he said, the guards actually opened the gate for him (even though it was really for another inmate coming in, with Holland managing to sneak out at the same time). [Morning Call (Allentown, Pa.), 3-19-05]


Steven Jakaitis, 42, was arrested in Quincy, Mass., in March outside a CVS pharmacy, where police said he fell asleep while preparing to rob the place. His car was idling; a stocking was on his head and a pistol in his pocket; and the piece of paper beside him read, "I have a Gun DO NOT Press any Alarms or let Custermors (sic) know Empty the All (sic) the register." [Patriot Ledger (Quincy), 3-15-05]


Roy Allen Boothe Jr., 18, was arrested after allegedly attempting to rob a Delta One Shop convenience store near York, Pa., in January. When he threatened the two female clerks with a tire iron, the women started punching and kicking him, until he begged for them to stop. After a few minutes (but with police on the way), he managed to wiggle away and run (though one clerk slugged him with his own tire iron on the way out). [York Daily Record, 1-27-05]

~~~~~~~~~~~~~~~~~~~~~~~~~~~~~~~~~~~~~~~~~~~~~~~~~~~~~~~~~~~~~~~~~~~

it's funny how moronic one gets.....
posted by bobby @ 10:27 AM

Thursday, May 26, 2005
In Response to Badmuthafucka (or watever ur nick is)
Hi there =)
u seem to be abit sore for whatever the reason is. well...
I quote from Soccernet ''The final decision is expected to be made at the UEFA executive committee meeting in Manchester on

June 17

.''
So unless u're living in a time beyond us normal beings, or you having the ability to travel through time to see the future, i don't see the reason why you should ask us to enjoy playing in the UEFA Cup next season. Another reason might be that you don't have the neccessary ability to read dates and determine which part of the year we are actually in. So let me correct you, June 17 is actually 3 weeks away. You might have to stop doing whatever you're doing to your mutha.... Seems like ur brain aint really taking it too well.
Allow me to put forward several possible scenario
1) u r a

Milan

fan - going ahead by 3 goals and losing the lead in 6 minutes doesn't really make you a deserving Champions League winner
2) u r a

Chelsea

fan - u might have beaten us twice in the EPL, but we whooped ur ass when it matters most
3) u r a

Juventus

fan - cream of italian soccer? and getting blitz by a team 5th in the EPL, and italian league is the best in the world? maybe we should include some norwegian team in the Serie A to add some excitement ya?
4) u r a

Manure

fan - 2 European Cups as compared to 5. Do you have any European Cups in ur Trophy Cabinet? oh, sorry, i forgot u dint even managed to win anything this season. How about the marvellous performance in the FA Cup final and yet not able to convert any chances? RVN is looking more and more like the donkey in shrek.
5) u r an

Arse-nal

fan - seems like we've gotten the title that you wanted the most. u being European Champions? dream on...
6) u r an

Everton

fan - if liverpool end up in the UEFA Cup, I'm sure we'll meet you in the same competition and show you how European ties should be played. or wait, can u even make it pass the qualifying rounds?
7) u r a

Newcastle

fan - enjoy the inter-toto cup!
But enjoy i will, you dun have to worry, i'll enjoy being the

King of Europe.

The

European Champions

, on one of the greatest night ever in Champions League history. and i'll be enjoying with the other Liverpool fans all around the world. Keeping the trophy and enjoying the status.
Well, looks like you're gonna be walking alone huh?
posted by bobby @ 7:04 PM

You'll Never Walk Alone
When you walk through the storm
Hold your head up high And don't be afraid of the dark
At the end of the storm There's a golden sky
And the sweet silver song of the lark
Walk on, through the wind
Walk on, through the rain
Though your dreams be tossed and blown
Walk on, walk on, with hope in your heart
And you'll never walk alone You'll never walk alone
Walk on, walk on, with hope in your heart
And you'll never walk alone
You'll never walk alone
posted by bobby @ 9:37 AM

Wednesday, May 25, 2005
Star Wars
It's about time i wrote something about Star Wars too. Not a big fan. But i watched Episode 1 2 4 5 6. Without remembering most of it. Things i remember are Darth Vader, Darth Maul, the way Yoda talks, and how he surprised me when he could actually fight, Jar Jar Binks, Ewoks, that big fat blob of jelly, and the light sabre.
I've decided to compile a not so useful list of Star Wars Double Trilogy. After reading this, you should know what this is all about. Not some war that Bush initiated and decided to call it the Star Wars, if you were thinking that.. you're awfully wrong...
Star Wars: Episode I - The Phantom Menace
Plot Outline:
Two Jedi knights and an outcast must help a queen save her world, and along the way discover a boy who has the potential to be a powerful Jedi himself.
(more)
Star Wars: Episode II - Attack of the Clones
Plot Outline:
Anakin Skywalker shares a forbidden romance with Padmé Amidala even while his teacher's investigation of a separatist assassination attempt leads to the discovery of a secret Republican clone army.
(more)
Star Wars: Episode III - Revenge of the Sith
Plot Outline:
After three years of fighting in the Clone Wars, Anakin Skywalker begins his journey towards the Dark Side of the Force, putting his friendship with Obi Wan Kenobi and his marriage at risk.
(more)
Star Wars IV: A New Hope
Plot Outline:
Luke Skywalker leaves his home planet, teams up with other rebels, and tries to save Princess Leia from the evil clutches of Darth Vader.
(more)
Star Wars V: The Empire Strikes Back
Plot Outline:
While Luke takes advanced Jedi training from Yoda, his friends are relentlessly pursued by Darth Vader as part of his plan to capture Luke.
(more)
Star Wars VI: Return of the Jedi
Plot Outline:
Han Solo is imprisoned by Jabba the Hutt, the Empire is building a new Death Star, and Luke hasn't finished his Jedi training.
(more)
There you have it. You're now a Star Wars Expert yourself. Go on out to show off your new found knowledge......
posted by bobby @ 12:37 PM

???
Are You Lonesome Tonight?
i find this a damn stupid question to ask people. or it'll feel damn weird to be asked this question.
Imagine you in school, at work, or jus taking a afternoon nap, and suddenly somebody sms you. 'Are you lonesome tonight?' how will you react?
Different Scenarios.
Guy received sms from Guy - 'Eh, fuck off lah!!!'
Girl received sms from Guy - Various forms of reactions. Varies from not replying the sms, reply jus with 'dot dot dot' or reply jus with '???'
Girl received sms from Girl - 'Don't need to matchmake me liao lar, yours all no standard one'
Guy received sms from Girl - 'Yea!! I'm real lonesome! Why Why Why???? Are you lonesome too? Shall we not be lonesome anymore?''
As you can see, the question is not taken very seriously. And it ranks high up there among the cheesiest ever pick-up line said.
Trying asking your boss 'Are you lonesome tonight?' and see what happens.
I tried.. and she just gave me Bs and Cs in my Staff Apraisal Report and categorised me under 'not recommended for promotion' Fuck.
posted by bobby @ 12:06 PM

Tuesday, May 24, 2005

so its a 65 feet bottomless pit
posted by bobby @ 1:19 AM


duh.......
posted by bobby @ 1:19 AM


whichs means u die lar..
posted by bobby @ 1:18 AM


tat's quite a gd warning....
posted by bobby @ 1:18 AM


behind? in front? huh?
posted by bobby @ 1:16 AM

Monday, May 23, 2005
musical baton
wanted to blog. but blogger was taking forever to load. it was slow. probably slower then me making that dash for the 100 metres sprint. it somehow made me lose my enthusism.
been losing touch with the music scene. been listening to most of my recycled mp3s.
There's this musical baton thing going around but nobody seems to be passing it to me. dang. so i'll have to do the loserish thing and do it without anybody passing me the baton
Total volume of music files on my computer:
300 hours 36 minutes 31 seconds which equates to about 12 and a half day of music.
I saved all my music in millions of different folders. so it's quite hard to find out exactly how much space it takes up in my com.. prolly about 17GB. (man... i should try listening to my whole playlist once thru)
The last CD I bought was:
twins latest album
Song playing right now:
some song by sylvester sim, well.. support local products...
Five songs I listen to a lot, or mean a lot to me (or I just like):



walk on - U2

-

aint been a big bono fan, but someone dedicated this song to me once when i was down and totally out. never really talked to that person since then. but well, that's another story
grow old with you - adam sandler

-

i'm a romantic person after all
run rabbit run - eminem

-

well, it sounds like my life
sei tu - the dining rooms

-

always calms me down
in the waiting line - zero 7

-

puts me in the dreamy mood (do u believe what you see?)
that concludes it. still on the topic of music. limp bizkit jus came up with a new album. The Unquestionable Truth Part 1. 7 songs. i took a listen to it. bad. i was a fan since their first album. but they were on the decline. and now i proclaim officially dead. well... that has to be the unquestionable truth they're talking about. can't think of any other more starking fact then that.
Seems like more people are into the more chilling out kinda music nowadays. singaporeans are getting more relaxed? or singaporeans are getting lazier? can't be bothered about that. if u're one of those looking for new stuffs to listen to. i'm here to help. at least here are some of my recommendations. love it or hate it it's all up to u. if u love it, u can always leave a comment if u want to to tell me how good my taste in music is.
if u choose to hate it... jus click on the file after downloading it, and hit the delete button situated somehow on ur keyboard. and that's that.




Top Recommendations by Bobby Pua



now i go on to another slightly different kind of music. jazz. and abit of audiophile. i've got very limited knowledge of jazz. but i try my best.. u might find some stuffs u like.

Jane Monheit

Peter Cincotti

Etta James

Bebel Gilberto
Madeleine Peyroux

Renee Olstead
aren't you delighted with all your new songs?? let me in if you have the same genre of music such as these and i dint mention them. i'm always up for new stuffs especially if it's music.
One last mention -

The Crystal Method

- they can probably outbass Prodigy or Chemical Brothers with hard rocking beats anytime. dunno how u classify them.. but i will put them under industrial metal. hmmm.. yea...
posted by bobby @ 3:14 AM

Friday, May 20, 2005
I Contain Poison
The following is the news article of the incident in Taiwan i mentioned in my previous post.
~~~~~~~~~~~~~~~~~~~~~~~~~~~~~~~~~~~~~~~~~~~~~~~~~~~~~~~~~~~~~~~~
MR ZHOU Yigui thought the energy drink tasted unusual after he bought it. So, he told the shopkeeper, Mr Li Zhiwei, to take a sip of it. Mr Li did so and promptly spat it out. Then he asked if Mr Zhou wanted to exchange the Bullwild energy drink for another.

But the 55-year-old plumber said: 'No need.' He drank it up, then placed the empty bottle on the counter. But he collapsed the moment he stepped out of the shop. He died two hours later, at 11.30pm on Tuesday night, reported Apple Daily Taiwan. On closer inspection, a label was seen pasted on the bottle, with the drawing of a skull and crossbones.

The chilling warning read: I contain poison. Please do not drink. But many Taiwanese buyers of the tampered drink, Bullwild, did not take note. Now, three other people have been hit by cyanide poisoning. Two of them are in critical condition and the third is under observation in the Veterans General Hospital in Taichung, central Taiwan. Meanwhile, the beverage company has launched an emergency recall of the drink.

A spokesman for Paolyta said that between 50,000 and 70,000 cartons, or some 1.68 million bottles of Bullwild energy drink, will be recalled islandwide. Also, all similar products will be removed from store shelves immediately, reported AFP. Police suspect that someone had tampered with the drinks, lacing them with cyanide, before placing them back on store shelves.
But one of the victims, a truck driver, told the police that he did not notice the warning on the bottle.

The police found two other bottles of Bullwild carrying the same warning at the same convenience stores, from which the victims had bought their drinks. Paolyta has suspended production and distribution of all Bullwild energy drinks until the incident has been investigated and explained, the company spokesman said.

NEAR RAILWAY STATION
Police investigations found that the four affected people bought their drinks at four different convenient stores, all near the Taichung Railway Station. The victims vomitted or went into shock immediately after taking the drink. The police has started tracing possible sources of the compound used. They have found that only two chemical companies in Taichung City are authorised sellers of cyanide.
Source - The New Paper
~~~~~~~~~~~~~~~~~~~~~~~~~~~~~~~~~~~~~~~~~~~~~~~~~~~~~~~~~~~~~~~~~
Cyanide is any

chemical compound

that contains the group C≡N, with the

carbon

atom

triple

bonded

to the

nitrogen

atom.

Inorganic

cyanides contain the highly toxic cyanide ion

C

N

- and are the

salts

of the

acid

hydrogen cyanide

(

H

CN).

Organic

cyanides contain the CN group single-bonded to another carbon atom and are also known as

nitriles

.

Two cyanide ions can bond to each other via their carbon atoms, forming the gas

cyanogen

.
errrrrr... ok.. i think that was too chim to understand... even for me.... maybe i shudden put even for me.. i failed chemistry.. always did... until my O levels. i hated chemistry. bahhh... dint like all the moles and calculations of moles and all the short forms for the chemicals... the only short forms i'm familiar with are only KNN and CCB... and when u combine them u get... KNNBCCB. simple as that.
for more cyanide information -- come here
This is crazy. I've told u taiwan has alot of happening news happening. Yet to see any articles on the husband slashing the wife news. will put it up as soon as i see it. That person that tampered with the drinks is really quite powerful. Wonder how he managed to plant the poison, paste the sign on the bottle and get away unnoticed. hopes he gets bang down by a car tmr and get reincarnated as a fly for his next 20 lives and continually get swat to death by me. but a fly is quite hard to swat.... maybe a cockcroach.. but again a cockcroach is damn fast. and its damn disgusting... so.... an ant would be a good choice. =) yes. he will be an ant for his next 20 lives. living in fear of bobby pua who would step on him. *splat*
So even though u're in Singapore or another country.. do take notice of ur bottles of watever drink before drinking them... U ARE NOT THAT THIRSTY
posted by bobby @ 2:12 PM

boring life of a boring person Pt 1
i wan to blog. i feel like typing. my fingers are itching to type. but not my brain. my brain is acting like its not part of me. it just wants to switch off. blardy hell.

i shall tell everybody about my normal working day. this will bore the whole world to death. but this is my daily life and daily routine... i'm living it... and u're jus reading it.. who's getting it worst man??? and u're gonna read it once... i'll have to live with it for another blardy plus plus year.

Morning... my leg will get lugged.... face will get slapped.... body will be slammed by my bolster.... lights will be on.... radio will be on full blast.... different tactics and strategy adopted by the alarm clock of the year.. my mom... to get me to wake up. this is the time of the day that time passes the faster.... minutes jus fly pass... i lie in bed... not wanting to face reality. i jus want to drift into another dimension. knowing that somewhere out there... a better place awaits my arrival.. there's jus a place that i can go.. to continue sleeping. and not be awaken to go to work.

but this was not to be. u know? reality hurts. and i had to face reality. reality means that i had to get my lazy ass out of my hibernating spot. and get myself walking to the living room. it's a long walk. at least it feels like it. everything in the morning seems so ugly. nothing is nice. every little thing pisses me off. i dun like to talk in the morning. my voice is low enuff as it is. my morning voice would probably sound like darth vader. but not that sounding like darth vader is not cool enuff for me. but i willl jus get pissed of by my own voice.

the aunty from my office jus came to kajiao me.. now my train of thought is damn off... ARRRGHHHH screw u damn auntie!!! not that i wan to screw her lar!!! jus a matter of speech meaning that i'm damn pissed off with her!

den i proceed to take my breakfast.. mian bao with gu you and a cup of kopi (bread with butter and a cuppa cuppucino) ok the problem now is that i'm probably so darn sick of my breakfast.. i do not even bother to complain anymore.. and it has become too much of a eating jus for the sake of filling my stomach and not fainting in the office later and not making those highly embarrassing growling sound from ur stomach. so i jus think abt that every morning and gobble down the food.

the tv will be on every morning by my mom. it'll be on chn 52. some taiwan news channel. i'll be sitting in the living room.. gobbling down my mian bao with gu you.. and absorbing the latest news from taiwan. todae's news was some man walking into a convenience store with a parang.. and hacking his wife (who was the cashier there) to death before slashing his own throat. they showed the survellience shots. morbid stuffs.

yesterday was a news on this red bull style drink being poisoned. and this poor chap drank the poisoned red bull style drink.. and on the news, they showed that the can itself had this sticker showing the 3 words. 'wo you du' meaning 'i'm poisonous' well... people sometimes are really DAMN thirsty. taiwanese news is 10 times more interesting then singapore news. at least these shocking news makes me abit more awake. the realisation of these things happening in the world. well. its always a weird feeling.

showering makes me even more awake. cold water down the head... brrrrrrr... and sometimes i poop when i have got the time. abit of clothes wearing and hair styling.. and i'm ready to go... all this can happen in 15mins... i wake up at 0730... and gotta be out of the house latest 0748 to get to work. so i'm actually quite a quick preparer for morning...

next up is the most dreaded part.. walking to the bus stop.. and walking up the mountain to get to my office... ok... not much of a mountain.. a slope maybe. it takes 2 stops to get to my busstop.. okok i can send ppl hurling vulgarities at me for complaining abt getting to work when my workplace is 2 busstops away.. but it's really quite abit of a walk u know??? my poor legs which has to carry my weight have to support me thru all this walking everyday. poor legs. i'll pamper u someday i promise.

Upon reaching the office. this is the start of staring at the computer screen. i'll boot up my computer... grab my waterbottle and head to the pantry to fill up my bottle. i love drinking.. if there aint no beer.. water should do fine too. back to my computer screen, check my emails for any sort of work...

if no email concerning work -- i'll start surfing around my daily sites.. soccernet, liverpool website, E!, entTom and blogs all around.

if there's email concerning work -- i'll start surfing around my daily sites.. soccernet, liverpool website, E!, entTom and blogs all around.

after all that... i'll start work. more of designing posters, designing publicity emails, creating surveys for people, desiminating files to other departments in the building, ensure that everything is ran smoothly, and taking care of the library. sometimes i'm used as a handy man. Collect documents from some fellas, Printer spoil must try and fix, ensure that meeting rooms are available and everyone is available for the meeting. it's all in a days job.
if u're looking for a boring job which sucks up all ur energy for having fun and having no life u can come and join me! i'll be more den glad for some company at work! come come!
posted by bobby @ 9:42 AM

Wednesday, May 18, 2005
what to do?
i'm now facing a very very important decision in my life! because i feel that my life is quite shitty. because i feel damn tired every day. and when i feel tired. i in turn have no life also.

hmmmmm.............................. why do i have no life??? actually many people think i have a life. or isit? ok. so i was quite happening. maybe not happening now. i enjoy a cup of coffee.... either at starbucks or at the friendly neighbourhood kopi tiam. actually the kopi tiam more shoik. i can anyhow sit.... shake my leg like nobody business.... and those plastic chairs at kopi tiam got those holes... den when i fart.. i dun have to bounce up so much. and kopi tiam is much more open air... so not many people will notice it when i fart.

but starbucks is shoik also. the ambience is damn good. super relaxing feel to it. more high class. and there might be pretty girls around reading story book whom i can go up to and say hi. girls reading story books at starbucks are the most vulnerable to be said hi to by me. try..

i dun feel funny todae. i feel depressed. why? i need counselling. i need professional help!! i never knew working here could really make me go berserk so soon. i'm crazy. but i'm a different kind of crazy. i will show u my ass if u wanted at the kopi tiam. jus pull down my pants only mar. den pull it up agn. simple as that. that i do no problem. but here. i gotta endure the mental stress and pressure of everything happening around me. it feels like i'm being judged man.

u know whats the worst thing? it doesn't help even if u're good. they can't sack me. and i won't get a payrise. haha. eh!! i'm always complaining! dang. can i stop complaining??? NO!! i'm a blardy whiny ass... i am. no joke. think subconsciously i enjoy complaining. share my anger and displeasure with people. ANY COUNTRIES WITH A COMPLAINING CULTURE???? i wanna go there!!

actually hor.... i think singapore shud be the most powerful complaining country. everywhere u go... in the toilet.... at macdonald.... shopping centre... in the lift... in the office..... in the bus, train, cab.... u hear people complaining. think about it. most conversations.. doesn't it start with a complain??

kopi tiam scenario
''nabeh, zheng hu bo gib warning..... increase road tax again.''

macdonald scenario
''wah lau, just now the test sibei sibei hard sia.. tmr take back result sure fail liao lar..''

office scenario
''that girl ah, always wear until like that.. aiyo... always MCS me leh.. how to work like this??''

shopping center
''that salesman so rude one lor, if he not handsome i sure scold him already''

ALL COMPLAINS!!!
get my drift? we cannot live in a world where we are contented. i wish i could. i shall try to work towards a life of contentment. that would really be reaching nirvana. but i would be quite happy to shake the hands of Nirvana... Kurt Cobain especially. but he's dead. wun wan to shake his hands. i would be scared shitless if he appeared right in front of me. maybe i would pee on the spot... and my pee would smell like teen spirit.. hurhurhur....
today will be a very good day for me to recharge myself. been to 2 consecutive birthday parties. both on working days. and i haven recovered from my mission trip to hongkong yet.. legs are still wobbly. think i need better shoes. anyone to buy me bally's?? oh yea.... great party yiffie and sheena~ =) would have been made better with free flow of drinks man. hahahaha. =P but u guys made me step into a club.... something that i haven done for a long long time. i swore off clubbing for the longest of time. i dunno why also. probably the biggest reason is to save money i guess. and i spent the money in my greater joy in life. KTV. haha. Gigs for me anyone??
I'm damn experienced.... grand total of ONE gig so far..... think the crowd was about 200? not bad huh? i do guitar... i do piano.... i sing.... but ok.. haven touched piano for a long time. longer den not clubbing. Song singing anyone??
*zheng hu = gahmen = government = the fella i working for
*MCS = Make Cock Stand Example = Angelina Jolie / Shu Qi is very very sexy.... She's the MCS kind of girl man....
Example = That salesgirl is damn MCS man!!!!
or any other way u like to use it.
posted by bobby @ 1:55 PM

Tuesday, May 17, 2005
the holiday
i'm back from hong kong. and normally. when u go for trips. u learn new things. so i bring forward to you.....

THE 25 INTERESTING FACTS ABT HONG KONG by Bobby Pua




Hong Kong people loves their Mercedes Benz. its what you see ard. BMW are so much less seen. every where i turn, its that Mercs thing..
Hong Kong people do not look at you when they talk to you. It's like when u're in the shop, the sales assistance will talk... but i have no idea if they're talking to me or not! cos i dun really understand what the hell they are talking when they are jus shooting cantonese out of their mouth at the speed of water dripping down from Niagara Falls..
Hong Kong people do not like Gardenia or Sunshine bread. i walked into a few 7-11s... no signs of any loaves of breads around at all. What do they eat when they're rushing to work in the morning man?
Hong Kong people have a faster average walking speed then us. and when they're walking fast... they jus still manage to seem so casual about it! wth man! i tried to walk like them, but got tired a few 20 steps.
Hong Kong people are generally smaller sized then us. I was in the train. and i could see all the balding patches of the guys. and also the tip of everyone's head.
Hong Kong cable TV is bad. I was dying of boredom in the hotel room. All we watched were bloody soccer! Not that i'm not a soccer fan. but i got paranoid of the crowd cheering sound in the middle of the night.
Hong Kong has alot of pretty girls. I miss them alot. I talked to a couple of them. But not chatting. Just asking for directions or buying stuffs from them. It's like their sales girls are so pretty it really makes u feel like buying from them.
Hong Kong people loves their Converse shoes. If u thought Converse was dead.. jus look at what Hong Kong punks are wearing on their feet man..
Hong Kong people speaks irritating but entertaining English. really wonder why Americans make fun of Chinese using the Hong Kong way of speaking English. WTH MAN!!
Hong Kong has cheap Ovaltine Ice Cream. 1 dollar for 1 Ovaltine Ice Cream. Big Big Shoik Shoik.
Hong Kong 7-11 provides proper sauce for cup noodles. Oyster sauce Soy sauce Light Soy sauce Chilli sauce. Its all there. Makes ur cup noodles damn shoik also.
Hong Kong sells porn mags in 7-11
Hong Kong has many Africans walking around the streets at night. Not those with leaves as their own form of clothing of cos. its those with ! in their names. eg. !xobile
Hong Kong people speaks louder then us. Was in the cafe place. all the ppl spoke with thunderous voices. all like trying to out talk each other. damn. i feel damn damn soft there... me! yes....
Hong Kong sells 'wu ling mi ji' secret martial arts manual at pasar malam. And they only cost $0.50 per book! wonder why i dint buy it. dang...
Hong Kong guys shops for fake plastic dicks at pasar malam. this i saw with my own eyes. maybe he had an itchy ass or something.
Hong Kong has mega shit ass big shopping malls. u gotta be there to believe it. its BIG!! walk until u cry also haven walk finish.
Hong Kong has mega shit ass big crowd that shops. if u think that they have so many many shopping malls and nobody will go there and shop. u're mightly wronG!!! the crowd is 10 times worst on a friday night in Hong Kong den a Saturday evening in Singapore.
Hong Kong people really loves their sushi. Especially sushi bars. its filled with never ending queues.
Hong Kong streets are rarely filled with cigratte buds. It's weird that everywhere i go i see people smoking. and dustbins are quite hard to find. but still they dun throw it on the floor! Maybe they keep it in their pocket.
Hong Kong people do not like to wear berms. The only people wearing berms were us.. and the ang mohs. Think they all have ugly leg hairs...
Hong Kong people likes to notice other people's fashion. They look at the shirt u wear.. they look at the shoes u wear... everything from head to toe. they will scrutinise u man.i kept getting the being looked at feeling.
Hong Kong has many many many pretty girls. this is a repeated point. but i cannot stress enough how true it is...
Hong Kong has very few fat girls. We saw 3 in 4 days. Its either they are damn good at slimming... or all the fat girls dun dare to step out of house.
Hong Kong has hot chicks for money changers. Instead of Mamas. It really works. U see this hot chick in this enclosed area, and den a mama in an enclosed area.. which will u walk towards?? the hot chick lar! damn poor rates also nvm man. u pay the extra to talk to her man.
For those who have came so far... i think i should reward u by giving u 2 more interesting facts! Congrats to all those reading here!!!
Hong Kong trains comes much more frequent then ours. the longest time i've waited for a train there is 3 mins. and i take the train at least twice a day man.
Hong Kong people has very good elevator culture.. they automatic move to the right hand side. so that people rushing can rush up from the left side. COOL MAN! i dun see Singapore becoming like that. Graceful society man..
if u noticed. all the bullets are numbered number 1. however. if u count. there are 27 points all together. i never bluff u. these are jus the interesting facts abt hong kong i noticed. think i'll blog more abt the trip soon. alot of work now that i've been away for so long. sianz. when i came back i cudden see the bottom of my table. i always thought that this was jus a matter of speech. never knew that it could actually happen. the files and all looked damn scary. if u got more interesting hong kong facts. do let us know!!
back to work. ciao
posted by bobby @ 9:51 AM

Wednesday, May 11, 2005
flying off
i'm going off to hongkong.. with a sore throat... nabeh.
posted by bobby @ 5:17 PM

mother's day
21 years and about 3 and a half months ago, a kao pei kia was born into this earth. luckily he wasn't very kao pei when young. but he has got to be taken care of. and he was really really taken care of till this very day 11th May 2005 by the very same person. This boy borned on 2nd Feb 1984 was very very pampered indeed.

Primary school. Being worried for the younger brother of the 2, who had weak hands. bought food from the canteen stall and spilled the food all over, she made it a point to come down to the primary school everyday, to buy lunch for the 2 boys. who either had piano lessons, or remedial classes. without fail be it rain or shine. den after that she will jus go home after making sure that her boys had a properly lunch. and not skip it jus to go play soccer or whatever else.

There's no classic story of anybody being sick at night and mummy carrying the boy on her back to look for a doctor in the rain. but she's still the first the wake up every morning, to ensure that everybody in the family gets up, and everyone gets to wherever they are supposed to get to on time. most of the time even with breakfast... been doing this ever since i had to go to school. even till now. and many a times i wake up.. the first thing i say is not a word of thanks. but i'll jus t scream back at her. i mean i'm the one getting screwed for being late. she wun be. but she still wakes us up everyday without fail.
If there's anyone who claims that she's a simple woman. i dare you to challenge mummy. She's the simplest woman i know. I know when she's sad. I know when she's happy. She loves watching lovely and heartwarming shows. She watches cartoon. She knows all the latest entertainment gossips. Its all this simple things that she does. Simply by watching a nice cartoon, a nice tv show... can make her happy.
And i think she makes the best dinner. Even when she doesn't know how to cook a certain dish. she tries and tries, so that we can eat wat we like. And whenever we go for camps, chalets, stayovers, i can see the worries and anxiety in her eyes. I was a bastard when i was in sec3 and sec4. i made her worried. i made her worry alot for me. i yelled and screamed at her and walked out of the house. Now that i recall... i would have really hurt her. she must be really really sad. I've only told her i'm sorry for all this once in sec 4. and that time i was kinda 'forced' to do it. i wrote a letter to her on my graduation.. like everyone else did for their parents. and i apologized for all i did. she cried. so did i.
I'm not a crybaby. i dun cry that easily. i'm still one of those MAN that dun like to cry. act tough and all. u know? but there's one very very soft spot in me. my weakness. and that's for my parents. whenever i think about them, or worry about them, tears will threaten to come down my cheeks. there was once when my dad was not around. and my mum fainted in the toilet. my whole mind jus went blank. i was scared. i was 20yrs old. but my mind transformed into that of a 2 yrs old. i dint know wat to do at all. i was worried and scared and jus blanked out even for a moment. nothing can be more worrying. i cried. they are not getting any younger. and i'm still unable to be able to provide for them. i've gotta do something about it fast.
If there's anything i need, my mum will be the one that is kam jiong and anxious for me. she will in fact be more anxious den me about everything. somehow life is really made much simpler with her around. is all mom the same? i dunno.
But if there's a woman that i love the most in my life... it's my mum.
**another PS to my future wife** u've gotta love my mum too k?
posted by bobby @ 9:17 AM

Friday, May 06, 2005
the notepad
i've got nothing much to say today. but i guess i'll post something up anyway. been living a very rural lifestyle these couple of days. living a villager's life (except for the TV, Internet, Handphone, Radio, PS2, Telephone) very peaceful. sometimes i wonder if i do like to spend time by myself, with myself, for myself.

but it all depends on the mood. i'm totally a mood person. i can be up for anything sometimes, but some days i just dun feel like doing anything. so i tend to be quite extreme. been nursing a belly lately. it's been nursed so well it's growing and growing. cool. but not that cool if my mindset is on building a great body. my body is not great. but it's okay. i like it. i think i'm cool. and i'm not exactly i healthy person. i've substained injuries in almost every part of my body. loose ankle, fragile back, perpetual coughing, ultra sensitive nose... these being the major problem zones.

and the problem about my temper?? hmmmm.. i can say that i've simmered down alot alot alot alot alot alot alot since my teenage days. haven't heard myself screaming at people at the top of my voice for a long time. but what worries me is that nowaday, when faced with problems, i keep it inside more. maybe that's why i'm balding. nabeh. all the worries i dun wanna share with anyone.

''if you dun carry your own burden, who the fuck will carry for you?'' i once told a fren. he had nothing to say.

it's true. ultimately it's YOU. you control your own bloody life.

my fren once told me a story. no idea where he got that story from. but it's still a story..

There once lived a man named Dan. Dan had a loving wife and very cute son who was 2yrs old. One day, Dan found God. Dan believed in God wholeheartedly. Dan wanted to be a very good man. Dan quitted drinking, quitted smoking, quitted gambling. All he wanted was to do good. He started to go around the streets helping the poor, the old and the beggars. He neglected his job as a carpenter. The loving wife was now struggling to feed the cute son. Dan gave the food he had at home away. he made chairs and gave them to the beggars for free. He stopped working for money. He knew that if he believed in God... all will be fine.

The wife and son had nothing to eat as there was no money. Dan returned to his home one day to find out that the wife and son had left him as he had been neglecting them as well. He had no idea of their whereabout. Poor Dan. But he still believed in God. He did what God wanted him to do.. He had no food now. He continued helping people despite his lack of food and rest. Dan was indeed a great man. Dan died at the age of 33.

Did Dan live out his purpose? To help the poor? He succeeded in life? He was a great man....
Dan was a poor father and husband? He did not provide for his family? Responsibility towards his family?
posted by bobby @ 12:01 PM

Wednesday, May 04, 2005
heart & soul of victory
THE loudspeaker system started off with a few dirges. The Smiths, that kind of thing. As if they were mourning Anfield's lost years.
But as the kick-off grew nearer and the players came out to warm up, the giant flag bearing the club's crest rippled over the heads of the fans in the Kop and the noise grew louder.

Twenty minutes before kick-off, you couldn't hear the loudspeaker any more. "We Shall Not Be Moved," they roared. Then it was "When The Reds Go Marching In."
As the Liverpool players trotted back to their dressing room for their final preparations, a great roar went around this grand old ground that made the hairs on the back of your neck stand on end.

And when Anfield stood as one and 42,000 supporters held their scarves up and belted out the most rousing rendition of You'll Never Walk Alone some of us have ever heard, it felt humbling to be in the presence of such passion.

One of the great sights in world football right there in front of you, reawakened by this magnificently unlikely attempt to stir the ghosts of the past.

Up on one of the top tiers, a banner spelled out a simple message. "Respect for Your Elders Gives You Character," it said. It was illustrated with the likenesses of four European Cups.
In the press box, Tommy Smith, Alan Kennedy, David Fairclough and Phil Neal and many more of the heroes of yesteryear, felt the emotion swell. Out there in the middle of it all, Jamie Carragher, the heart and the soul of this new Liverpool side finally knew he was a part of the great Liverpool tradition.

He saw Chelsea wilt as the walls of noise bombarded the players from the stands. Even this wonderful Chelsea side had never experienced anything like this intensity before.

Before four minutes had elapsed, Carragher saw the Kop suck a weakly-dinked chip from Luis Garcia over the goalline in front of them just as legend says that they can on nights like this.

They dragged it and dredged it over that line with the fury of their desire and they were ahead before William Gallas booted it clear. Carragher, born a few miles up the road in Bootle and brought up through the Liverpool ranks, must have thought in those moments of joyful pandemonium of Bill Shankly's claim that the Kop was worth an extra man on European nights.
He must have thought of how St Etienne were overrun here on the way to that first European Cup triumph in 1977.

And he must have begun to dream that Chelsea would be swept aside just like Borussia Moenchengladbach and Juventus have been in other famous Liverpool victories here.
He has given more to the Liverpool cause than anyone this season. Only he has played in every single Premiership game, his form never seeming to falter.

His friends are still friends from this city, even he has moved a few miles north of Bootle to Blundellsands. His values are still theirs.
A couple of weeks ago, he recounted a story about how they had poked fun at him mercilessly for acquiring a wallet. It was seen by them as an affectation halfway to wearing a sarong.
Even his father is a hero, celebrated for being arrested at the England v Holland game earlier this year after being refused re-entry to Villa Park.

Carragher played like he was playing for all of them, throwing himself into every tackle, every header, never giving Didier Drogba a sniff.
His reading of the game was faultless, too. Time and again, he stifled danger with a smart interception to the point where Chelsea's frustration began to grow.

Over the two legs, Carragher's contribution more than any other helped to bridge the 33-point chasm that separates these two sides in the Premiership.
He knew that this might be his best shot at playing in a European Cup Final. He knew it might be his only shot. And he responded accordingly.

When the Kop sang "You'll Never Walk Alone" again to welcome the players back after the interval, it suddenly seemed clear that if Liverpool were to win, this would be a collective triumph, shared between 42,000 people. A triumph of the will.

So Carragher was far from alone. The rest of the Liverpool defence were superb as well. Jerzy Dudek produced one outstanding save from a Frank Lampard free-kick, Steve Finnan was meticulous.
Djimi Traore was uncharacteristically and whole-heartedly brilliant, Sami Hyypia was commanding.

Infused by the spirit of the evening, they responded to ghosts of Shankly and Bob Paisley and the lingering spirit of Dalglish and Keegan, Hansen and Lawrenson.
On other nights that might sound trite and wide-eyed but how else can you explain what happened here last night?

How else can you explain it other than to say that Carragher and company are heading to Istanbul, transported there by the greatness that this ground still holds in its pores.

--Oliver Holt , Mirror
posted by bobby @ 8:29 PM


bye chelsea
posted by bobby @ 8:25 PM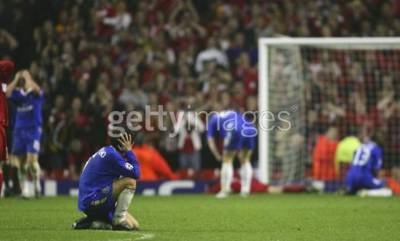 how often do u see this?
posted by bobby @ 8:24 PM


yes... no way mouron
posted by bobby @ 8:23 PM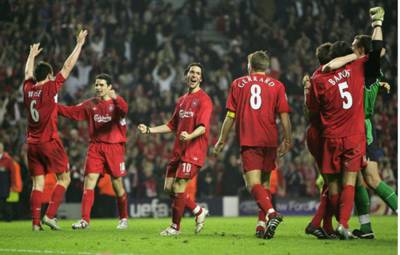 done it again..
posted by bobby @ 8:22 PM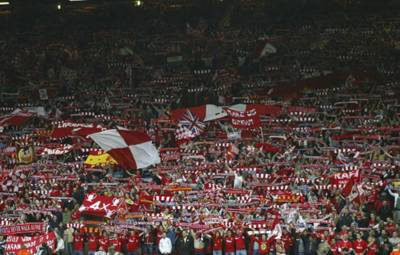 the magical kop
posted by bobby @ 8:10 PM

Tuesday, May 03, 2005
funny shit
i don't like people to use the term 'funny shit'
if shit was funny, why have i never heard a joke from him/her before?
taking a short break from work nw. everything is getting so stressful. i woke up this morning and my right eye was twitching non-stop. all you guys must be thinking 'oh come on, get a break, it's jus ur eye twiching, it's no big shit' well.. try letting it twitch for the whole damn morning and den u get back to me and tell me how it feels. it's this mega niggling uncomfortable feeling that keeps bugging u, and the fact that u know u can't control ur own body which makes it feels worst.
hence, i was getting abit worried about the twitching. so i went on to

ask jeeves

on why eyes twitches. i received some rather ironically comforting answers.
What Causes Eye Twitching or an Eye Twitch
Stress

Irritation of the cornea or conjunctiva

Fatigue

Lack of sleepDrinking caffeinated beverages

Staring too long such as at computer screen or tv or when sewing


Nervous system disorder
Eye Twitching Treatment Options
Mild Eye Twitching
Will usually go away on its own

Cut down on stress


Rest up
Severe Eye Twitching
Eye Twitch- Preventive Measures
Stress management - keep stress under control

Get plenty of sleep to keep eye muscles rested

When in vision intensive scenarios such as computer work, take frequent breaks to give the eyes a break

Let's take a look at wat caused my eye to twitch..
Stress - confirm lar. all my deadlines i haven meet.
Irritation of cornea - this one not sure lar.
Fatigue / Lack of Sleep - all my friends knows the answer. 5hrs a day. hmmmm..
Drinking caffeinated beverages - maybe i shud end my daily kopi routine.
Stare too long at computer - if the whole day's counted as too long....
Nervous System Disorder - i haven ki siao yet lar... not so serious case.
so at least i know that it's due to all these problems and its not that it's an omen telling me that something is gonna happen. i do get a tad superstitious at times you know?
anyway, i'll jus kinda recovered halfway from my all time record fever. sunday morning i took my temperature and it was at 39.6 degrees. HOLY CRAP. i've never hit 39 ever before in my life. so i can sort of consider it a landmark day for myself. was so damn sick i even had trouble sitting up to eat my porridge.
***to whoever is my wife*** - i get damn whiny when i'm sick and wants to be pampered & taken care of. so here's a warning 1st. don't say i never say hor...
2 days later i'm still sick, fever's still around, and coughing like my lung's gonna drop out anytime but i'm at work clearing shit for people. Well... Life is Beautiful aint it?
posted by bobby @ 11:44 AM

Monday, May 02, 2005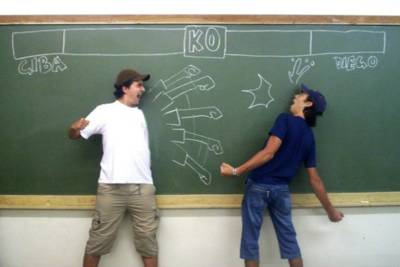 arcade gaming right here in your classroom. u'll right into the game
posted by bobby @ 8:22 PM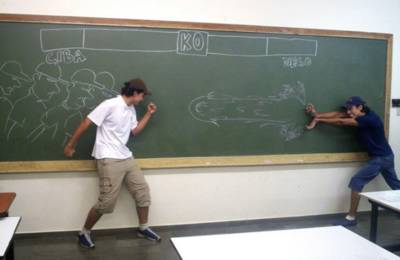 street fighter ex99
posted by bobby @ 8:21 PM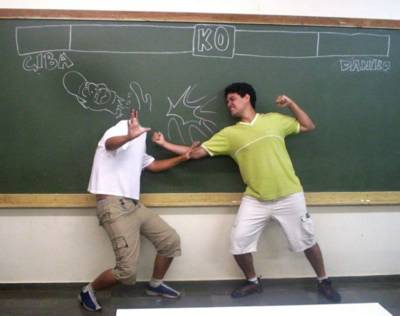 mega punch
posted by bobby @ 8:20 PM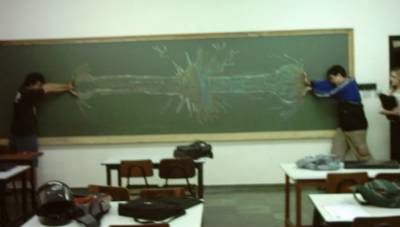 duel of the 'gui pai qi gong'
posted by bobby @ 8:19 PM


i've always had something for girls in specs. but my dream girl in specs??? wooo laaa laaa~~~
posted by bobby @ 8:18 PM

Sunday, May 01, 2005
cows
TRADITION CORPORATION
You have two cows.
You sell one and buy a bull.
Your herd multiplies and the economy grows.
You sell them and retire on the income.
AN AMERICAN CORPORATION
You have two cows.
You sell one and force the other to produce the milk
of four cows.
You are surprised when the cow drops dead.
A FRENCH CORPORATION
You have two cows.
You go on strike because you want three cows.
A JAPANESE CORPORATION
You have two cows.
You redesign them so they are one-tenth the size of
an ordinary cow and produce twenty times the milk.
You then create clever cow cartoon images called
'Cowkimon' and market them World-Wide.
A GERMAN CORPORATION
You have two cows.
You re-engineer them so they live for 100 years, eat
once a month, and milk themselves.
A BRITISH CORPORATION
You have two cows.
Both are mad.
AN ITALIAN CORPORATION
You have two cows, but! you don't know where they are.
You break for lunch.
A SWISS CORPORATION
You have 5,000 cows and none of which belong to you.
You charge others for storing them.
A CHINESE CORPORATION


You have two cows.
You have 300 people milking them.
You claim full employment and high bovine productivity.
You have the newsman who reported on the numbers arrested.
AN INDIAN CORPORATION
You have two cows.
You worship them.
A MALAYSIAN CORPORATION
You have two cows.
You signed a 40-year contract to supply milk at RM0.06 per litre.
Then midway through, you raised the price to RM0.60 or you cut the supply.
When the buyer agrees to the new price, you change your mind again and now
want RM1.20.
The buyer decided you can keep the milk and they go look for milk that
comes from recycled cows or the cow urine instead.
Your two cows retire together with the Prime Minister.
A SINGAPOREAN CORPORATION



You have two cows.
One cow-peh and one cow-bu.



posted by bobby @ 10:26 PM

About Me
Name: bobby
Home: Dorset, Island, Singapore
About Me: Man in Pain
See my complete profile
Previous Post
Archives
Sing the Song
Scene
Songs
Friends
Waywards
Powered by